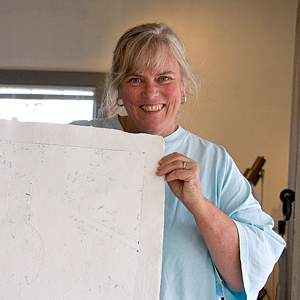 Photo by Judy Robinson-Cox, taken during artist residency in Gloucester, MA 2009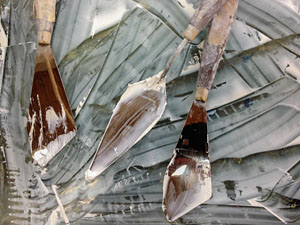 Palette knives photographed by Bill Hughlett
Obituary
Melinda G. Hannigan died of cancer on July 1, 2016 at her home in Twisp, Washington surrounded by her loving family. Her passing was peaceful. In her death she showed the same bravery and the extraordinary attitude that marked her life and her multi-year battle with the disease. Melinda was born in San Francisco, California on April 29, 1949. Her parents were Eugene L. Gartland and Eileen (Rush) Gartland. She attended St. Stephen's Elementary School, Mercy High School, and the University of Portland where on the first day of college she met her husband of 46 years.
Melinda is survived by her husband, Patrick M. Hannigan, of Twisp Washington, her sons, Patrick G. Hannigan, of Twisp, Washington, and Michael F. Hannigan, of Hood River, Oregon, five grandchildren, and her sister, Jeanne Jones, of Kamuela, Hawaii. Most of her adult life was spent on Mercer Island in Washington State.
Melinda left her mark on all those who knew her. She had a fierce love for her family and friends. Her creative and encouraging spirit, her winning smile, and wicked sense of humor were with her to the end. Melinda's glowing personality and her passionate desire to make art were the hallmarks of her life. Her favorite saying was "Attitude is (almost) everything!"
Her love of art and her drive to be what she termed a "significant" artist informed and motivated the last two decades of her life. Working in oils Melinda developed a unique style that characterized her work and earned her the nickname, "The Rust Queen."
Melinda is remembered by her fellow artists as a mentor and a powerful motivator. She would spend hours guiding and encouraging fledgling artists in establishing paths to successful careers. Her work is in corporate and private collections throughout the United States.
At Melinda's request, no public memorial service will be held.
---
Artist Statement
The inspiration for my paintings comes from the maritime environment, an environment I've known all my life. The colors, textures, markings on working ships are endlessly varied and often starkly beautiful. These ships travel the world, and each port they visit, each dock they touch, each tug that works them, leaves its mark which inscribes the story of these ships on its skin. Rather than paint a ship from stem to stern, I focus in "close-up" on these markings. I manipulate color, perspective, composition and texture, and as a result my paintings include realistic images that become abstract canvasses.
Biography
Painter Melinda Hannigan has shown her work in galleries and museums in the United States and Europe. An exhibition of her work called "Scratching the Surface: Exploring the works of Melinda Hannigan" was held at the Columbia River Maritime Museum in 2005–2006. Her paintings were used extensively in the documentary "Sweet Crude," a film about the oil industry, pollution, and social protest in the Niger Delta, Nigeria. The 2008 publication of the book Women of the Sea included a chapter about Melinda and her art. Melinda is often asked to speak including being featured on Oregon Public Radio and while she was an Artist in Residence in Ireland.
In addition to visual art Melinda loves music and plays the doghouse bass with friends and is learning the ukulele.