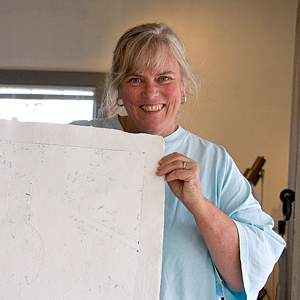 Photo by Judy Robinson-Cox, taken during artist residency in Gloucester, MA 2009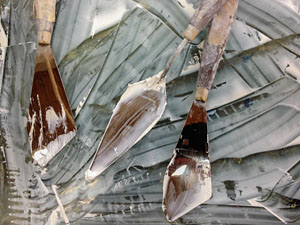 Palette knives photographed by Bill Hughlett
Artist Statement
The inspiration for my paintings comes from the maritime environment, an environment I've known all my life. The colors, textures, markings on working ships are endlessly varied and often starkly beautiful. These ships travel the world, and each port they visit, each dock they touch, each tug that works them, leaves its mark which inscribes the story of these ships on its skin. Rather than paint a ship from stem to stern, I focus in "close-up" on these markings. I manipulate color, perspective, composition and texture, and as a result my paintings include realistic images that become abstract canvasses.
Biography
Painter Melinda Hannigan has shown her work in galleries and museums in the United States and Europe. An exhibition of her work called "Scratching the Surface: Exploring the works of Melinda Hannigan" was held at the Columbia River Maritime Museum in 2005–2006. Her paintings were used extensively in the documentary "Sweet Crude," a film about the oil industry, pollution, and social protest in the Niger Delta, Nigeria. The 2008 publication of the book Women of the Sea included a chapter about Melinda and her art. Melinda is often asked to speak including being featured on Oregon Public Radio and while she was an Artist in Residence in Ireland.
In addition to visual art Melinda loves music and plays the doghouse bass with friends and is learning the ukulele.
Home | Paintings | Resume | Bio | Exhibitions | Contact | Webmistress